Peninsula Co-op Milestones
An overview of Peninsula Co-op's history by decade.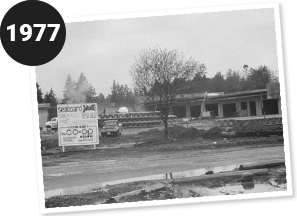 In 1977
We opened our doors as a warehouse Co-op on Keating X Road in Saanichton, BC.
1980's
In 1980, we changed from a warehouse to a conventional Co-op and opened a one lane, two pump gas centre at the Keating X Road location. A new focus on marketing and value added programs were incorporated in 1981, and we published our first member newsletter, the Peninsula Co-op Commentator which we still publish today. In 1982 the Keating Gas Centre was upgraded and in 1983 the Food Centre implemented a bonus dollar program for non-food purchases.
In 1984 we experienced our first year where we had a positive bottom line. Our Food Centre introduced a fresh baked department in 1986 and we also began supplying gas to Save-On Gas. Member-owners received their first cash rebate payment in 1988. That same year, we made an initial purchase of Save-On Gas, added 3,000 square feet to our existing Co-op store for non-foods and hardware, added a lawn and garden area and exceeded $10 million in sales.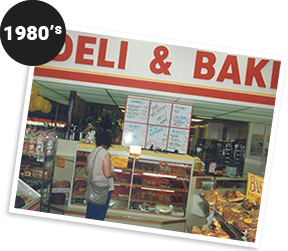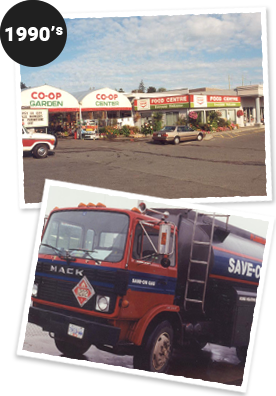 1990's
We started the new decade with a second Save-On Gas purchase building a retail/commercial cardlock and car wash on the corner of Keating X Road and Oldfield Road. The Wilkinson Road site, our third Save-On Gas purchase, was built in 1991. In 1992 the member-owner membership fee changed from $100 to $25 and our sales exceeded $20 million.
Between 1993 and 1994, we started our home heating fuel division, added Deep Cove and Nanaimo sites to Save-On Gas, we purchased our Brentwood Co-op location and 6.8 acres at Keating X Road and West Saanich Road. During 1995, the Brentwood Automotive site was changed from Shell to Co-op, Duncan Canada Avenue was added to Save-On Gas and our sales exceeded $30 million.
In 1997, our Food Centre went through a major renovation and we significantly upgraded our Deep Cove Save-On Gas location. Sidney Save-On Gas was also added to our growing list of locations. During the years of 1998-1999, our Food Centre warehouse was expanded and a new office was added for our Administration staff. The Keating Gas Centre saw a major renovation, the Goldstream Gas Centre was built and we added a Cardlock location in Sidney.
2000 – 2009
Between 2000 and 2001 we saw an increase in sales from $50 million to $63 million.
The years spanning 2002-2004 included renovations, acquisitions and name changes. Our Millstream Gas and Convenience Centre was built in 2002, the Brentwood Bay Gas Centre had a major renovation which included a new convenience store and the addition of a Touchless Car Wash. Our Royal Oak location was renovated and the name was changed from Save-On Gas to Co-op. In 2003, the Duncan Canada Avenue property was purchased. In 2004, it was re-built to include a Touchless Car Wash and new convenience store and the name was changed from Save-On Gas to Co-op. The Keating Cardlock site was also renovated and the name changed from Save-On Gas to Co-op.
In the years spanning 2005 to 2007, Pat Bay, Deep Cove, Sidney, Wilkinson and Gorge Road locations were renovated and their names were changed from Save-On Gas to Co-op. In 2006, Co-op membership numbers were accepted by all Save-On Gas sites. In 2007, our Mill Bay property was purchased and our sales exceeded $100 million.
With our increased growth, sales in 2008 exceeded $115 million and by 2009 our sales exceeded $137 million. In 2009, we opened our Mill Bay location and attained the #1 petroleum marketing share in the Victoria and Duncan areas – a position in which we still hold today.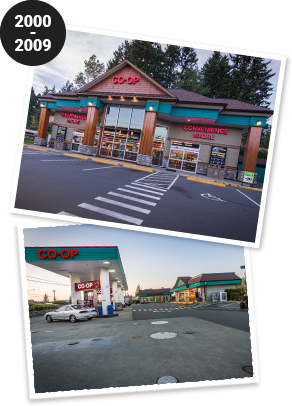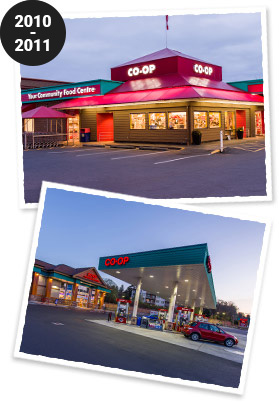 2010 – 2011
In 2010, we had a large member growth. Our earnings totaled $8 million that year, with sales of $135 million.
In 2011, our sales continued to increase, reaching $153 million. Our earnings also continued to grow, reaching $8.6 million. The Mill Bay location was instrumental in helping us meet our achievements, proving very successful during this time. We acquired the Triangle (South Duncan) and Cowichan locations this year, upgrading the Cowichan location to the Co-op brand. Our membership grew even faster, with membership hitting the 50,000 mark.
2012 – 2014
In 2012, our sales hit an unprecedented $170 million, with our continuing strong petroleum sales contributing to this amount. Our membership increased again, with numbers hitting 56,000. Our Wale Road location in Colwood opened in November 2012, which generated new memberships and business. Our Board Election process was also changed to a mail-in ballot process.
In 2013 we hired our new CEO/GM, Dave Hoy, who came to us from Mid Island Co-op. We also renovated our Goldstream location in Langford and added a 3rd fuel delivery truck to our fleet. Our membership grew to 60,000 and our rebate allocation totalled $5.6 million.
In 2014 we renovated our Keating Gas Centre, Food Centre and South Duncan location – which was also converted from a Save-on Gas into a Co-op. Our sales reached $184 million, and membership climbed to 71,500. Our annual rebate to our members was $5.7 million.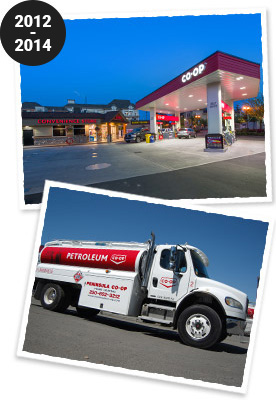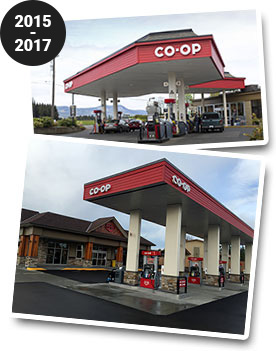 2015 – 2017
In 2015 we renovated our Millstream and Brentwood Gas Centres. Both renovations were extensive and we were able to keep both open for business throughout the process. Our membership climbed to over 83,000 and we gave out over $5.5 million in rebates.
In April 2016 we amalgamated with the Comox Valley Co-op. With the amalgamation we added a new gas centre, home heating and a cardlock. As well, we added over 6,000 new members to our membership.
In November 2016, we opened our 17th gas centre. Located in North Saanich / Sidney, just off the Pat Bay highway at McDonald Park Road, the location offers a car wash, propane, marked-gas and a full convenience store.
On the corner of Sooke Road and West Shore Parkway, Our West Shore Parkway site opened on December 13th, 2017 and became our 18th gas centre. This site offers a propane, mid-grade, marked gas and premium, tap and go technology for paying at the pump and a Touchless Car Wash opening in 2020.
2018 – Present
In the spring of 2018, we merged with North Island Co-op in Campbell River and officially reached over 100,000 members.
In 2019 we celebrated our renovated and modernized Comox location with a grand reopening. We also upgraded and modernized the stations at Royal Oak and Mill Bay with new pumps .
Our Food Centre went through some changes in 2019 by adding 3 new express self-checkout tills and eliminating the use of plastic bags at the checkouts. We worked with the other owners of the Keating Centre and installed 2 electric charging units to the south end of our store's parking lot which is now powered by Peninsula Co-op.