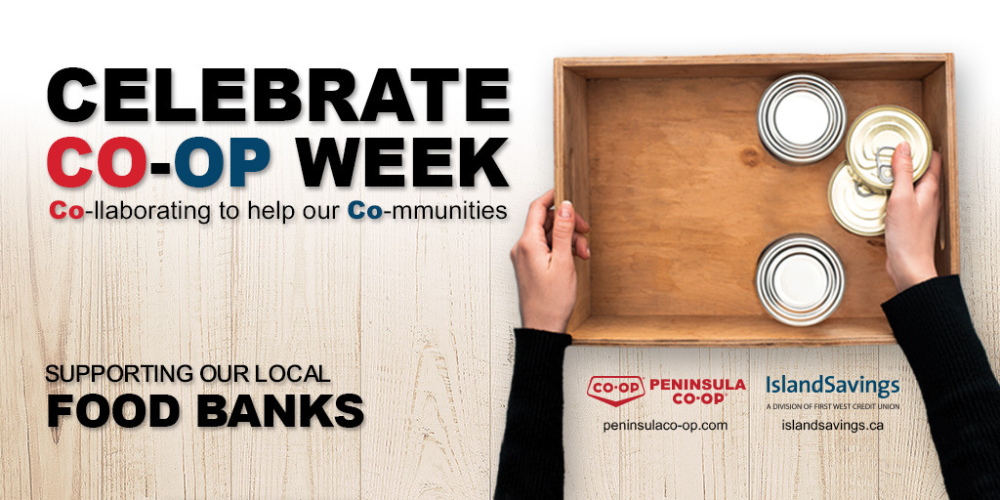 Co-op Week Food Bank Drive
Published on: October 14, 2022
Two Island-based co-operatives unite to support local food banks
VICTORIA, B.C- Peninsula Co-op and Island Savings, a division of First West Credit Union, have teamed up for 2022 Co-op Week (Oct 16-21) to help put food on the table for the Vancouver Island and Southern Gulf Island communities in which they serve. Additionally, they are using this celebratory week as an opportunity to provide education and awareness around the unique member-centric business models of co-ops and what it means to be a member.
"Working together with fellow co-operatives to better our communities is one of our core values and we are proud to partner with Peninsula Co-op to celebrate our unique strengths as local co-ops, and more importantly help put food on the table for those in need," says Kendall Gross, President at Island Savings. "It's essential for the community to understand why we exist and to make the connection between belonging to a co-op and bettering the community in which you live— we think this initiative displays that connection perfectly."
Both Peninsula Co-op and Island Savings have strong roots on Vancouver Island having served members for nearly 60 years and 70 years respectively. They are encouraging members of the community to donate food and funds to their local food bank, with both organizations matching all donations up to a combined total of $20,000. Food items can be donated at their respective locations.
"You don't need to be a co-op to participate in this co-operative initiative! Food insecurity is more prevalent than many of us may realize. We hope the community will come together to help us fill our local food banks and support our neighbours who may be struggling," said Lindsay Gaudette, Director of Marketing and Community Relations for Peninsula Co-op.
On October 19th from 3:30-5:30 p.m., Island Savings and Peninsula Co-op will be on-hand to collect food donations and run activities at a special event hosted by Pacific FC at the Island Training Centre (2888 Kettle Lake Dr, Victoria, BC).
About Island Savings
Island Savings is a premier provider of banking and investment services for residents and businesses throughout Vancouver Island and the Southern Gulf Islands. As a division of First West Credit Union, B.C.'s third-largest credit union with 46 branches throughout the province, Island Savings brings innovative products, an extensive branch network and local decision making to the banking experience. For more information on Island Savings, visit www.islandsavings.ca
About Peninsula Co-op
Peninsula Co-op is a Vancouver Island based co-operative with roots dating back nearly 60 years, and proudly serving Duncan to Victoria, and Comox and Campbell River. Owned and guided by more than 112,000 member-owners, their core business includes grocery, petroleum, liquor and home heating products. They have 18 gas stations and convenience stores and employ over 370 part-time and full-time employees. Last year $4 million was returned to their member-owners, and half a million dollars is contributed to local community initiatives annually.