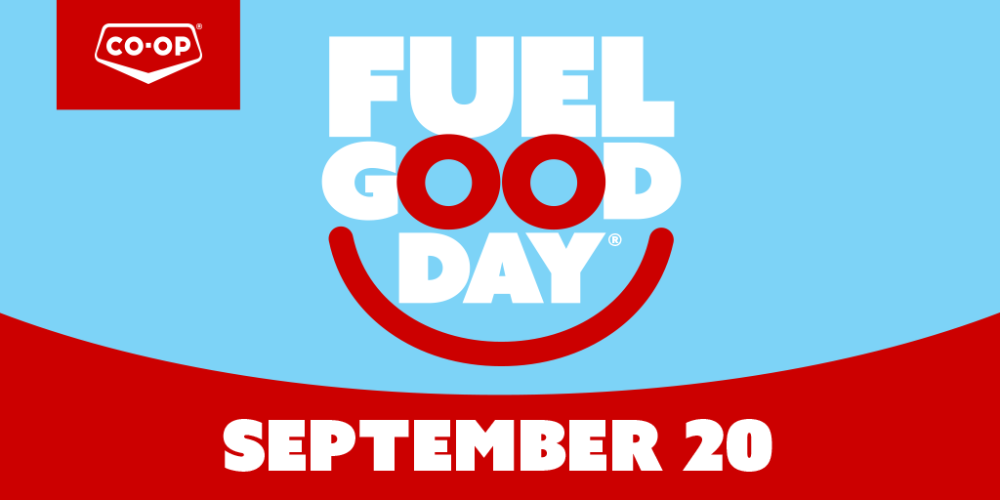 Fuel Good Day
Published on: September 2, 2022
Join us September 20th as we Fuel Up to Fill Dreams!
Victoria (September 2, 2022) — Peninsula Co-op wants its members and customers to fill up and Fuel Good about it on Tuesday, September 20th.
As part of Fuel Good Day on Sept. 20, five cents from every litre of fuel sold at any of Peninsula Co-op's 18 Gas Centres will be donated to Help Fill A Dream. This includes all grades of gasoline and diesel fuel.
"We are so grateful for Fuel Good Day and the support it brings to Island families. For 36 years, we have been making Dreams come true for children with life-threatening / critical conditions. This has only been possible with the continued support of our community and incredible partners like Peninsula Co-op. Dreams are powerful things as they represent hope. This Island, our home, inspires Dreams and together we can make them come true. Thank you to everyone who chooses to make Dreams come true by filling their tank on this special day," said Craig Smith, Executive Director at Help Fill A Dream.
"Fuel Good Day is an easy way to help support Island kids with life-threatening illnesses, simply by filling up their tanks. It's heartwarming to see the community's commitment to support our Island kids, many driving on fumes in the days leading up to the event so they can squeeze in as many litres as possible! We encourage everyone to rally together on September 20th to fulfill kids dreams by filling their tanks", says Lindsay Gaudette, Director of Marketing and Community Relations for Peninsula Co-op.
Keep an eye out for Help Fill A Dream staff and volunteers helping thank everyone for filling up on Fuel Good Day. To pay it forward, one lucky customer will win a 2-night staycation courtesy of Prestige Oceanfront Resort in Sooke!
When: Tuesday, September 20, 2022
Where: Saanichton, Brentwood Bay, Sidney, North Saanich, Victoria, Langford, Colwood, Mill Bay, Duncan, Comox, Campbell River
About Peninsula Co-op
Peninsula Co-op is a Vancouver Island based co-operative with roots dating back nearly 60 years, and proudly serving Duncan to Victoria, and Comox and Campbell River. Owned and guided by more than 112,000 member-owners, their core business includes grocery, petroleum, liquor and home heating products. They have 18 gas stations and convenience stores and employ over 350 part-time and full-time employees. Last year $4 million was returned to their member-owners, and half a million dollars is contributed to local community initiatives annually.
About Help Fill A Dream
Since 1986, Help Fill A Dream has operated quietly in the background as a resource for Island families with critically ill children. In addition to making Dreams come true, Help Fill A Dream offers families hope by providing financial assistance to help with: travel costs associated with receiving health care; medical or therapeutic equipment to address special needs; and therapeutic resources. Help Fill A Dream seeks to support families so they can concentrate on the health, care and recovery of their child.
For more information:
Lindsay Gaudette                                                                             Craig Smith
Director of Marketing and Community Relations                 Executive Director
Peninsula Co-op                                                                          Help Fill A Dream
250-544-2950                                                                                 250-382-3135