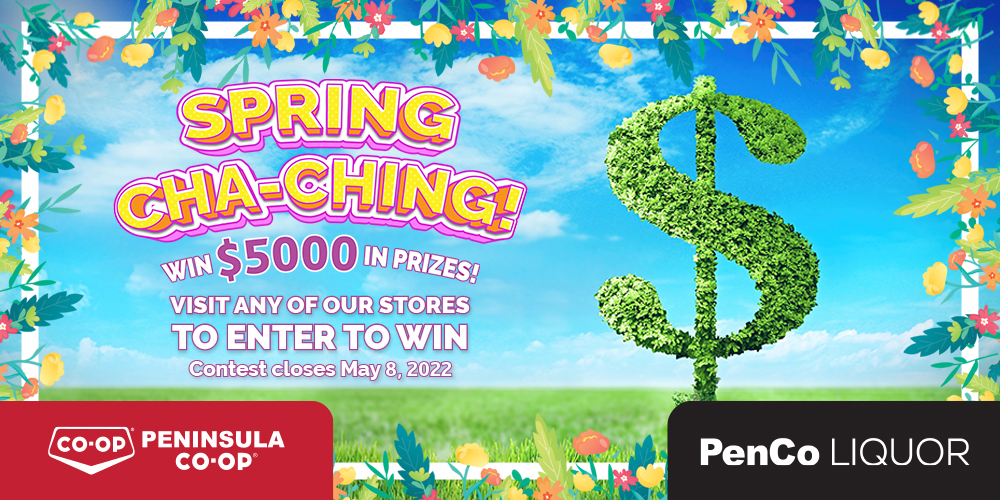 Spring Cha-Ching!
Published on: April 1, 2022
We want to add a little cha-ching to your spring, so we're giving away $5,000*!
And we've made it very simple. From April 4th-May 8th visit ANY of our locations to enter, including all Gas & Convenience Centres, Food Centre, PenCo Liquor stores and Cardlocks.
Find the Spring Cha-Ching signage in store, on the door, or at the pumps, and scan the QR code with your phone to access the entry form- it's that easy.
There are 5 weekly prizes to be won, increasing in value to reach the grand prize amount of $2,500!
Week 1: $250 – WINNER: Crystal Banks!
Week 2: $500 – WINNER: Diana Lucas!
Week 3: $750 – WINNER: Rick Reid!
Week 4: $1,000 – WINNER: Shirley Brown!
Week 5: $2,500 – WINNER: Jessica Slinn!
*prizes will be awarded in Peninsula Co-op gift cards, which can be used for any of our offerings including PenCo Liquor.
Non winning entries will be carried over into the next week's draw for more opportunities to win. Click here for the full contest conditions.