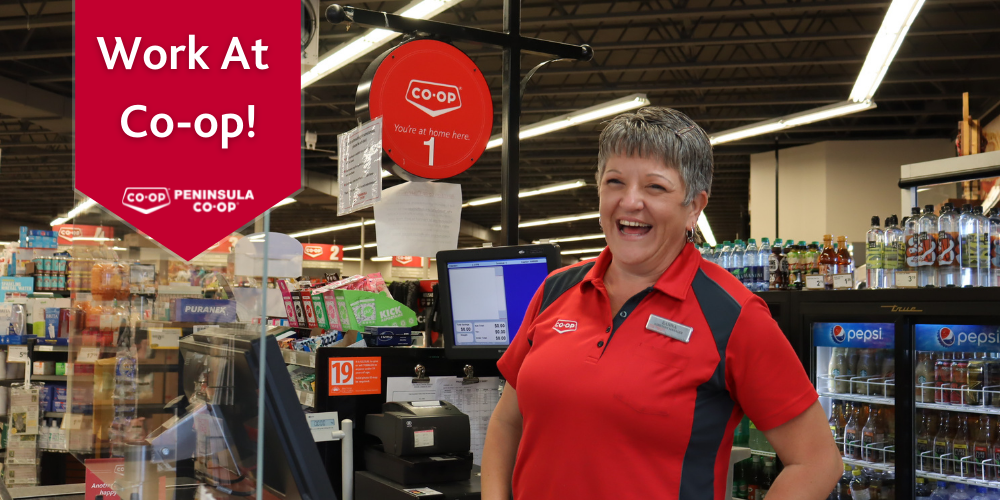 8 Reasons to Work at Peninsula Co-op!
Published on: August 10, 2021
Are you or someone you know looking for an outstanding company to join? Peninsula Co-op offers so many great things to their employees and it shows with the incredible level of long-term staff and high retention rates. We'll share a few highlights with you here:
Flexible scheduling, great for students in both high school or post secondary.
We have fun, the customers and coworkers both bring a great sense of fun to the workplace.
Co-op is a community minded organization. They give back roughly half a million dollars to the community each year. It feels good to work for a company that wants to better the neighborhoods in which we work and live.
Profit sharing, referral bonuses, staff incentives, student awards. Peninsula Co-op shares its profits with our members, our community and our staff. They also offer bonuses if you refer friends to work here, or refer someone to purchase a membership.
Free coffee or Big Cool while on shift! Yepp – freebies are good!
Fitness benefits: Gym membership available in certain regions, fitness challenges, entry into sponsored marathons/events and reimbursement for other health and wellness activities: Want to join yoga? Want a meditating app subscription? Co-op will pay for 50% of those fees for you! *up to $300 annually, some restrictions apply.
Opportunities for training and development. You won't just get thrown into the deep end,they provide ample on the job training for new hires, and have programs in place if you want to learn more and grow within the company.
Varying job positions – Don't want to work at a gas centre? Peninsula Co-op also has a food store with multiple departments! Along with a home heating department, liquor stores and an administration team. *not all positions available, some restrictions apply.
Learn more by visiting the employment page, or stop by one of our 18 locations and ask our staff how they feel!