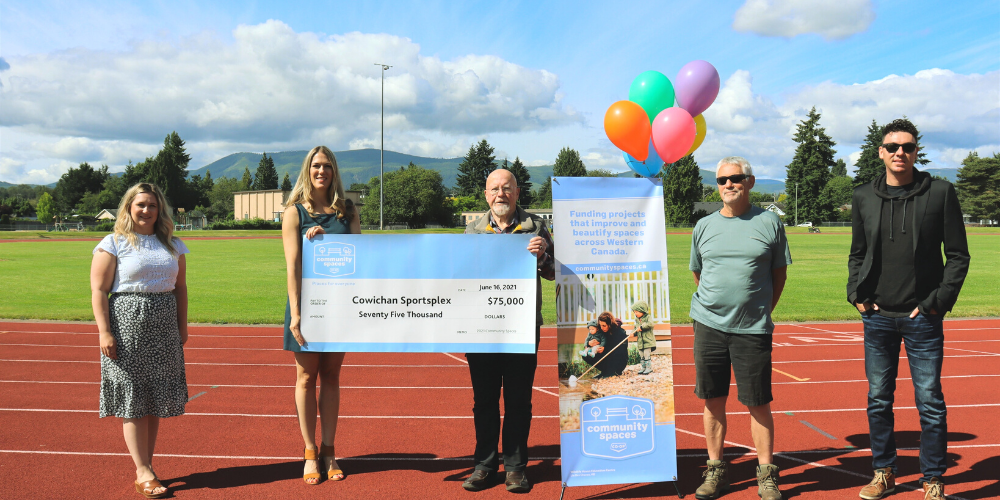 Community Spaces 2021 Recipient
Published on: June 17, 2021
Co-op donates $75,000 for Cowichan Sportsplex
(June 16, 2021) As provinces across Western Canada take steps to re-open, Co-op Community Spaces is funding projects that will help bring our communities back together. This year, Co-op is providing $75,000 to fund improvements to the Sportsplex Public Fieldhouse in North Cowichan, B.C., including new team changes rooms that will be used by the public and teams of all types and ages.
"The fieldhouse has been a part of overall the vision for the Sportsplex since day one. Now with all the pieces in place we're so close to breaking ground, it's a really exciting time for the user's facility and the community as a whole." said Chris Jaycox, Executive Director of the Cowichan Sportsplex. Co-op Community Spaces has been developed to help protect, beautify and improve spaces across Western Canada. As our community begins to re-open after the COVID-19 pandemic, we are reminded of the value these projects bring in connecting and improving our communities.
"We are so excited to partner with the Chesterfield Sports Society through the Co-op Community Spaces program. The last 15 months have been very challenging, and it's such an honor for our Co-op to contribute to creating a space for residents to safely come back together" explained Dave Hoy, CEO of Peninsula Co-op. "Investing in our community is central to our values as a Co-op. Partnering with community groups on important projects like this is a natural fit. We are creating beautiful spaces for our community to enjoy now and for years to come" said Ian Anderson, CEO of Mid Island Co-op.
In 2021, the program is providing $1 million to 15 communities projects across Western Canada. Since 2015, Co-op has supported 147 projects with $10.5 million in capital funding. The giving program is administered by Federated Co-operatives Limited on behalf of more than 160 independent retail co-operatives across Western Canada that form the Co-operative Retailing System.
For more information about Co-op Community Spaces or to view the complete list of 2021 funding recipients, visit www.communityspaces.ca.