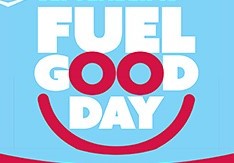 Peninsula Co-op's 2020 Fuel Good Day to benefit Help Fill A Dream on September 15!
Published on: July 31, 2020
Peninsula Co-op has generously chosen Help Fill A Dream Foundation as the receiving charity for its annual Fuel Good Day!
Fill up your tank on Tuesday September 15 and support the foundation in providing relief and comfort as well as dreams and memories for Island families. #FillUptoFillDreams
What: Co-op Fuel Good Day
When: All day Tuesday, September 15th
How it works: Visit participating Peninsula Co-op locations on September 15th and fill up your tank. Thanks to Co-op's generosity, 5 cents from every litre of gas or diesel sold that day will be donated directly to the Foundation.
"The pandemic has created new challenges for many in our community, but it has also multiplied the existing struggles many children already face every day. Help Fill A Dream does more than just fill dreams; they help fund day-to-day medical supplies and critical support programs. Fuel Good Day is a community event where it's easy to social distance while filling up so we hope the community will rally together on September 15th to fulfill kids dreams by filling their tanks", says Lindsay Gaudette, Marketing and Community Relations Manager for Peninsula Co-op.
Keep an eye out for Foundation staff and volunteers helping thank everyone for filling up on Fuel Good Day.
About Help Fill A Dream
Since 1986, Help Fill A Dream has operated quietly in the background as a resource for Island families with critically ill children. In addition to making Dreams come true, Help Fill A Dream offers families hope by providing financial assistance to help with: travel costs associated with receiving health care; medical or therapeutic equipment to address special needs; and therapeutic resources. Help Fill A Dream seeks to support families so they can concentrate on the health, care and recovery of their child.
See you on September 15th